The LaunchCycle Home Page offers a multitude of access points for creating tasks or projects and monitoring current projects. If you do not have any projects or companies set up, your home page gives you two ways of setting up your very first project. One, you can simply click at the top right of the page in the "+New Project" box. Or two, you can click the "+Add New Project" link on the bottom left of your Launch Pad.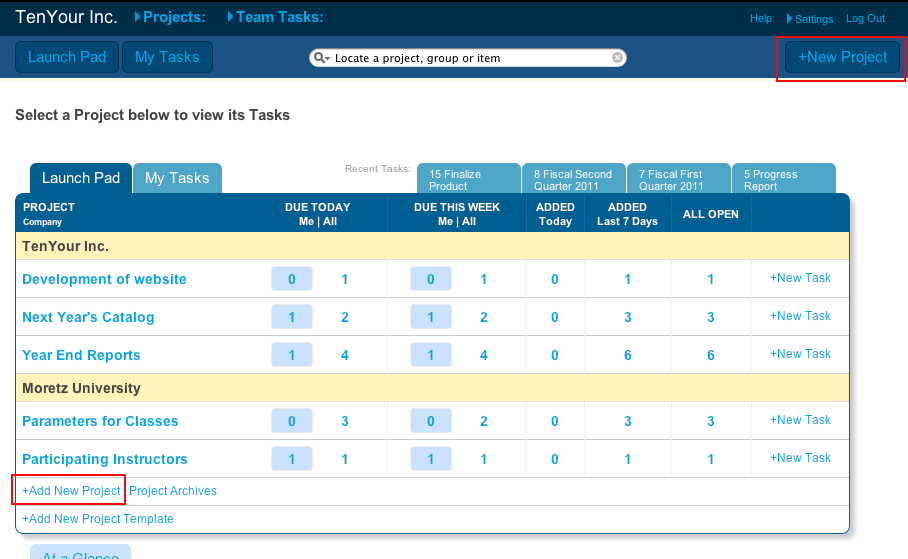 You'll find three main tabs on your home page screen: Launch Pad, At a Glance, and My Tasks.

If you have already set up some projects, you'll notice the Launch Pad lists all Projects and Companies for which there are current tasks. The main purpose of this Launch Pad is to allow you to quickly see every project and see whether or not you have specific tasks assigned to you. As you scroll down, you'll notice an even more convenient feature called At A Glance. More about that later!

A fast way of accessing a specific Project, no matter where you are in the site, is the convenient pop-up menu that appears when you scroll over "Projects" located in the upper left hand corner of the screen.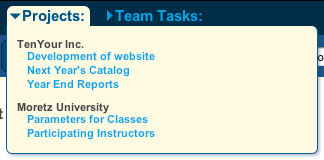 If you want to see what someone else on the team is working on, head to "Team Tasks" in the upper left hand corner of the screen. Scroll over "Team Tasks" and a drop down list of all people will appear. If you click on a name, you will see that person's tasks.